Berry Tart
Turn Right Where The Barn Used To Be
My family moved from a townhouse in downtown Chicago with a view of Wrigley field to a three-bedroom Colonial home on three acres of land in Etna twenty years ago.
Our son had just turned four and we wanted to trade our tiny gated garden for land where he could play and roam outside our door without worry. It was a huge change for us and we learned, soon after we started to unpack our boxes, that our presence and the presence of our newly built home represented a huge change in this little corner of the world. Our property was once part of a farm that sat on four corners of a little dirt road. After the land was inherited by out-of-town heirs, it was divided up. A 1850's barn that had once been part of the farm, was sold to the builder who put up our house. Now it was ours. While we never intended to farm or raise livestock in it, over the years we took care of the barn as best we could, cherishing a bit of history in our midst. Time and weather got the better of the barn—it became a safety hazard—so we decided to take it down a few weeks ago.
A curious thing happened. We learned that the barn meant a great deal to folks who drive by. Neighbors we'd never met stopped and asked what was going on. Others let us know they used it as a marker, giving directions like turn right at the barn. Still, others didn't want to believe that it couldn't be salvaged.
At the outset of the project, my husband and I had hoped we'd find some treasure hidden in its midst. We imagined a child's memory box or an ancient piece of farm equipment turning up. Little did we know that the treasure would be much greater―a magnificent stone wall that had served as part of its foundation emerged after the rubble was cleared away. Still intact, and held together in part by tiny, unused grave stones—it's a glorious site. It's pristine and lovely. Over time, we'll develop a little garden around it, and hopefully, it will begin to mean as much to the neighborhood as the old barn once did. I can't wait to watch it grow and unfold.
For now, we'll say turn right where the barn used to be. Perhaps someday that will change and whatever grows around our lovely wall will a part of the future of this little part of the world.
Dena
Gathering Flavors was on break for the summer while I redesigned this site. In going through older recipes, I was reminded of this Mixed Berry Tart. So delicious, I'm publishing the recipe again. A buttery crust filled with a delicate semolina custard and topped with mixed berries—it's perfect for the berries that are ready for picking this weekend. Make it and enjoy!
I hope you like the 'new' Gathering Flavors. Note: A version of this post was recently published here.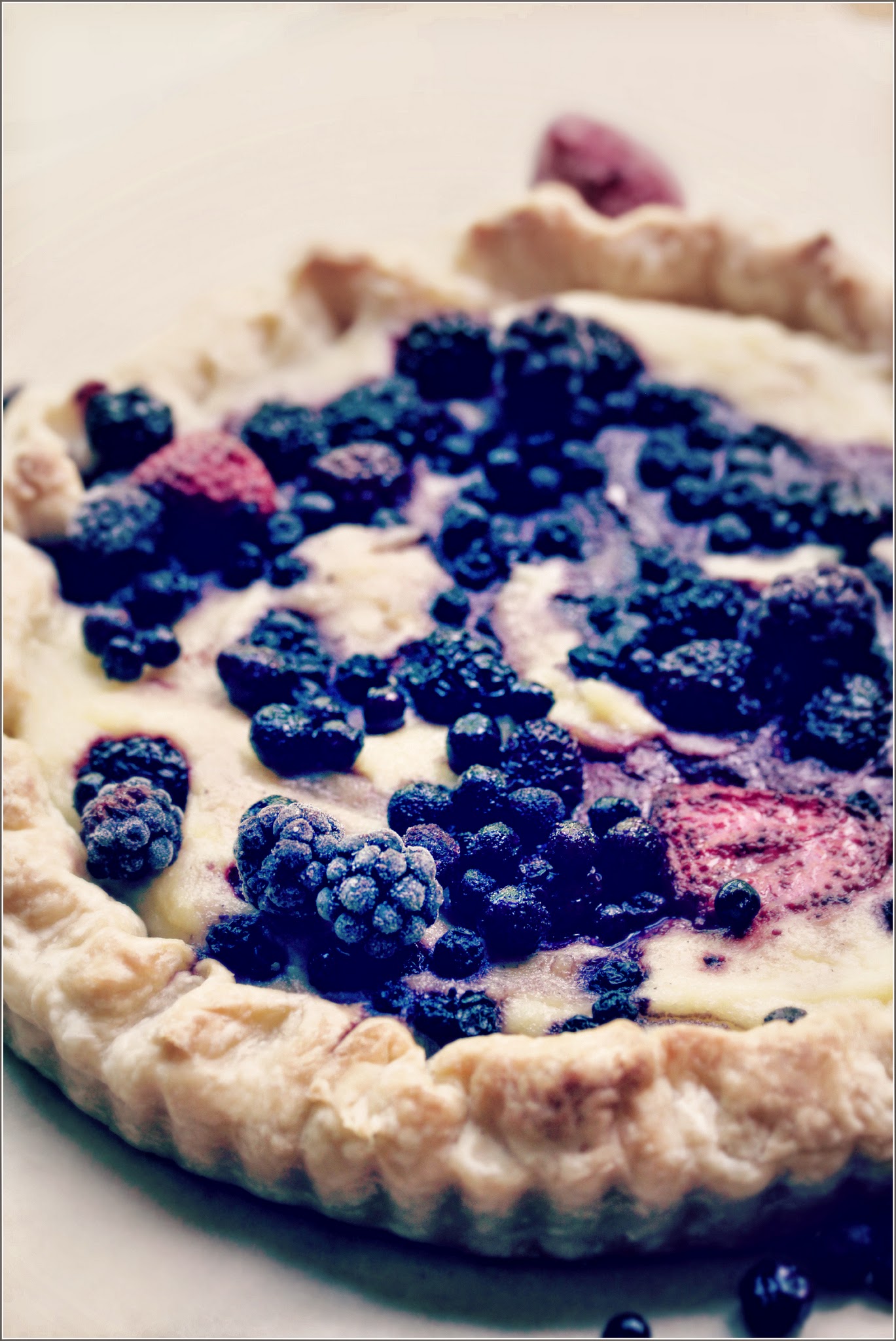 2 9-inch tarts, about 16 Servings
Ingredients:
For the pastry shell:
2 ½ cups all-purpose flour
1 tablespoon granulated sugar
¾ teaspoon salt
½ cup salted butter, chilled and cut into small pieces
½ cup vegetable shortening, chilled and cut into small pieces
6 tablespoons buttermilk, chilled
For the filling:
⅓ cup heavy cream
1 ½ cup whole milk
5 tablespoons granulated sugar
1 teaspoon pure vanilla extract
⅓ cup semolina
1 large egg
1 ⅔ cups assorted fresh berries, stems removed, rinsed and sliced as needed
For serving:
Confectioners' sugar, for dusting
2-3 cups assorted fresh berries, stems removed, rinsed and sliced as needed
Handful rinsed fresh mint leaves, optional
Instructions:
To prepare the tart dough and pre-bake the pastry shell:
In a large bowl, combine the flour, sugar, and salt. Add the butter and vegetable shortening. Cut them in using your hands or a pastry blender. Blend it till the mixture resembles a coarse meal the size of peas.
Add the buttermilk and mix it until the mixture is just moistened. You don't want it wet.
Press the dough together and divide it in half. Wrap each piece in clear film and chill it for at least one hour, up to 24 hours.
Prepare 2 9-inch tart pans with removable bottoms by lining the outside with aluminum foil. (This will prevent spillage if while the tart is baking.
Remove one piece of pastry dough from the refrigerator. Remove the plastic film. Lightly dust a clean work surface with flour and roll the dough out until it a circle large enough to cover one tart pan and most of the sides comfortably. Carefully line the pan with the pastry dough and trim the edges. Repeat this with the second piece of pastry dough. Refrigerate both for at least one hour, up t 24 hours.
Preheat oven to 325 degrees F. Cut out two pieces of parchment paper or foil large enough to cover the base and sides of the tart pans. Place them inside the pastry shells and fill with dried beans or rice so the sides of the pastry are totally supported by the beans and won' collapse during baking. Blind bake the shell for 20 to 25 minutes, until it is very light brown. Remove from the oven and take out the beans or rice. Allow to cool while you prepare the filling. Leave the oven on.
To make the filling, put the butter, cream, milk and sugar in a clean saucepan. Place the pan on the stove and bring to a boil. Let it simmer while you whisk in the semolina in a slow stream. Continue whisking until the mix comes back to a boil and thickens up like porridge. Remove from the heat and whisk in the vanilla and the egg.
Pour the semolina mixture into the pastry shells and level them with a wet spatula. Divide the prepared berries evenly between each tart and push them gently into the semolina mixture. Place in oven and bake until the filling is slightly golden, 20 to 25 minutes.
Remove the tarts from the oven and allow to cool completely before removing them from the pans.
When ready to serve, dust the tarts with confectioners' sugar. Slice into wedges and serve garnished with more fresh berries. Add a few fresh mint leaves, if you like.
Enjoy.
Notes:
This recipe was adapted from Tate's Bake Shop Cookbook by Kathleen King (for the pastry dough) and Ottolenghi: The Cookbook by Yotam Ottolenghi and Sami Tamimi for the semolina and berry filling.
Dena Testa Bray
Dena Testa Bray has been writing Gathering Flavors, a culinary blog, since 2011. She is a trained chef & ran a home based cooking school. Dena now designs websites, focusing on work with creative people. You can see her website work at www.denatestabray.net. She lives in New Hampshire with her husband and family.