Wilted Summer Greens with Tomatoes & Herbs
So much of what I love about summer is said in these photos. The colors. The light. The freshness.
Last weekend our neighbors stopped by with the basket of greens shown here. Filled with kale, Chinese greens, Boston lettuce and more—they made for fabulous simple salads. And, this dish of Wilted Summer Greens. The greens are added to a mixture of tomatoes, fennel seeds, and garlic that has been gently simmering in olive oil. Cooking time is brief—just enough for the flavors of the vegetables all to come together. Topped with fresh herbs and pine nuts, this dish is a meal in itself when a loaf of bread, some wine, and cheese are added to the table. Delicious at room temperature or warm, feel free to get creative and add it some other of your favorite dishes. It makes a great filling for omelets, a light sauce when tossed with pasta or sprinkle over roasted potatoes, or even a fun topping on toast. Make it your own and enjoy!
I look forward to seeing you in my kitchen, gathering flavors, soon.
Dena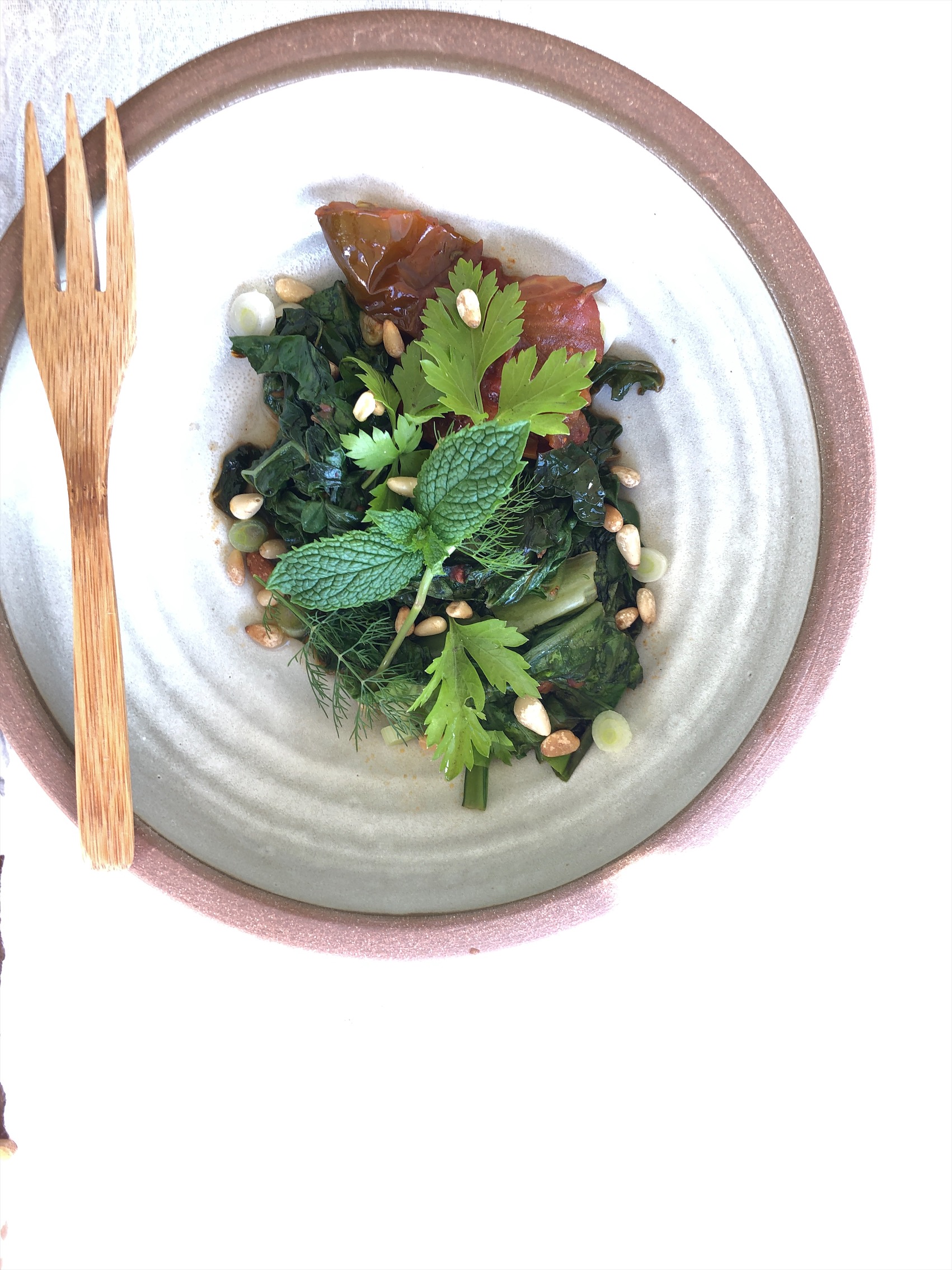 Ingredients
Olive oil

1 teaspoon fennel seeds

2 teaspoons Turkish Ras El Hanout, or 1 teaspoon paprika and 1 teaspoon cumin

4 fresh tomatoes, chopped

2 cloves garlic, minced

About 8 cups assorted greens (lettuce, kale, mesclun mix), rinsed and trimmed

1 bunch scallions, chopped

Salt and freshly ground black pepper

¼ cup toasted pine nuts

Large handful fresh herbs, rinsed and torn

Instructions
Heat olive oil in a large skillet. Add the dried spices, stir until lightly browned and fragrant, about one minute.

Add the chopped tomatoes and cook until tender, about two to three minutes.

Add the greens and toss with the other ingredients. Cook for one minute, until slightly wilted.

Transfer from pan to a large serving platter.

Sprinkle with salt and pepper, scallions, pine nuts, and herbs.

Serve warm or at room temperature.

Enjoy.
Dena Testa Bray
Dena Testa Bray has been writing Gathering Flavors, a culinary blog, since 2011. She is a trained chef & ran a home based cooking school. Dena now designs websites, focusing on work with creative people. You can see her website work at www.denatestabray.net. She lives in New Hampshire with her husband and family.