Cauliflower and Herb Soup
Transformation―defined as a thorough or dramatic change in form or appearance―is something we each go through in life. Transforming from child to adult. Transforming into the heads of families or career people. Even transforming and creating what feel like new identities if we move from one part of the country or one part of the world to another. I used to think of myself as a Long Island gal, then a Chicagoan. Now a New Englander with a little bit of each of those former identities still in me.
Sometimes transformations aren't quite as dramatic—a transformation in mood, even for a few moments—can make a big difference in how we see the world and get us through the day. I considered this when I was in New York last week. My mother was ill, and I needed to take care of her and manage her care while she was in the hospital and transitioning to a rehabilitation center. When things got unbearably tough, I removed myself from the situation for a few moments to clear my head and give myself a little kindness. Fortunate to have lovely weather in February, I decided one day to buy an ice cream cone and take it to a small duck pond I visited as a child. As I ate my cone and watched an elderly woman feeding the ducks the way my father and I did as a child, I was transformed briefly into that little girl with her gentle father. Briefly, I was a girl whose only worry was to finish my ice cream cone before it melted. The rehab center where my mother is living for now is across the street from one of the most beautiful beaches in New York, one where I spent countless hours with friends during summers in high school. A short walk there, breathing in the salt air and listening to the gulls, once again transformed me into an unburdened woman for a brief time. These short but powerful transformations fueled me and gave me the strength to do what I needed for my mom. Thank goodness for little things, eh?
Cooking is all about transformation—transforming simple ingredients into a flavorful whole.
This Cauliflower Soup with Fresh Herbs is made by combining tenderized cauliflower with potatoes, garlic, broth, and herbs. Finished with a bit of Greek yogurt for thickness and topped with sundried tomatoes at serving, this is a comforting soup that will fill you with nourishment and joy. This recipe is made in an Instant Pot but don't let that stop you if you don't have one. There are instructions in the notes on how to make it on the stovetop, as well.
Enjoy.
Think spring!
I look forward to seeing you in my kitchen, gathering flavors, soon.
Dena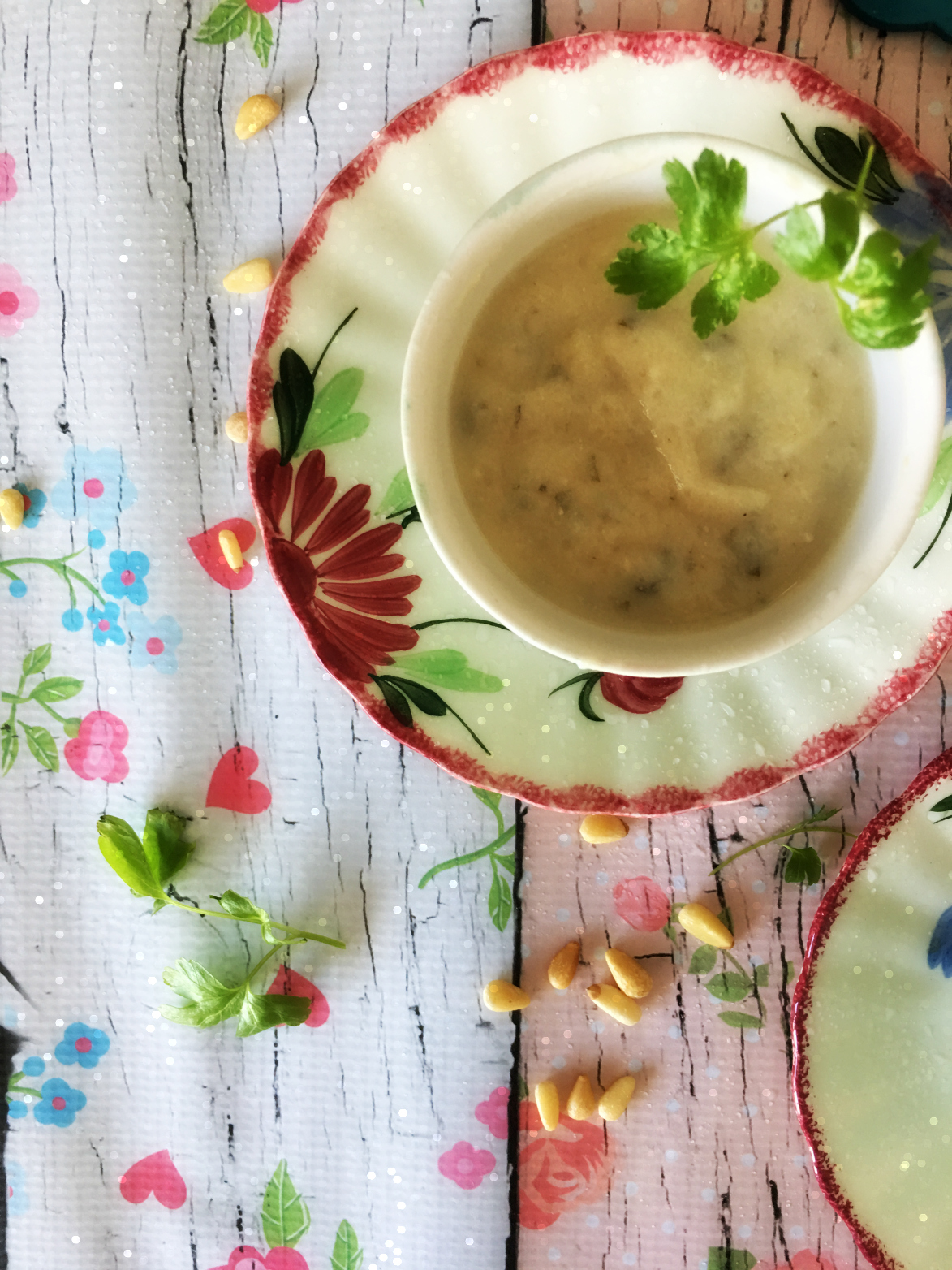 Yield: About 8 Servings
NOTE: This recipe is written for an Instant Pot. You'll find instructions for making it on the stovetop in the notes to section of the recipe.
Ingredients―
2 large russet potatoes, peeled and cut into large dice
1 small head cauliflower, trimmed and rinsed
3 tablespoons butter
8 cloves garlic, peeled
4 cups chicken or vegetable stock
1 cup fresh herb leaves, such as mint, parsley, or basil, rinsed―plus a bit more for serving
1 cup plain Greek yogurt
Salt and freshly ground black pepper, to taste
Slivered sun-dried tomatoes in oil and roasted pine nuts, for serving (optional)
Instructions—
Place 1 cup of cool water in the bottom of your Instant Pot. Place the potatoes and cauliflower in a steamer basket that fits into your Instant Pot. Cover and cook under pressure, on high, for ten minutes. Release steam from the pot manually and uncover. Remove the vegetables and any liquid from the pan, reserving the liquid. Set aside.
Set the Instant Pot to saute high heat. Add the butter and melt. Add the garlic clove and saute in the butter until translucent, about one minute. Turn of the Instant Pot.
Put the potatoes, cauliflower, reserved liquids, and stock into the instant pot. Stir. Cover and set the pot to pressure cook on high for ten minutes. Release the steam from the pot manually and uncover.
Using an immersion blender, puree all the ingredients in the pan. Add the fresh herbs. Puree again. Add the yogurt. Stir to combine. Add salt and freshly ground black pepper, to taste. Stir again. Cover the pot and set it to soup on high for six minutes. If not serving right away, allow the steam to dissipate on its own. If serving right away, release the steam manually and open the pot.
Serve in soup bowls, garnished with fresh herbs, sun-dried tomatoes, and pine nuts, if using.
Notes—
To make this soup on the stove top, break the cauliflower apart into florets. Place a large soup pot on the stove. Warm over the soup pot over high temperature. Add the butter. Melt. Add the garlic. Toss with the butter and saute for oneminute. Add the potatoes and cauliflower. Cover with stock and stir. Bring the liquid to a boil, then reduce to a simmer. Simmer the soup until the vegetable are tender, about 15 to 20 minutes. Remove from the stove and allow to cool slightly. Using an immersion blender, puree everything until smooth. Add the fresh herbs. Puree again. Add the yogurt. Stir.
Return the soup to the stovetop and heat through. Add salt and pepper to taste. Stir. Serve with the garnishes of your choice.
When using an Instant Pot, work according to the manufacturer's instructions to avoid injury.
If you make this recipe, please take a photo and share in on Instagram #gatheringflavors.
Dena Testa Bray
Dena Testa Bray has been writing Gathering Flavors, a culinary blog, since 2011. She is a trained chef & ran a home based cooking school. Dena now designs websites, focusing on work with creative people. You can see her website work at www.denatestabray.net. She lives in New Hampshire with her husband and family.